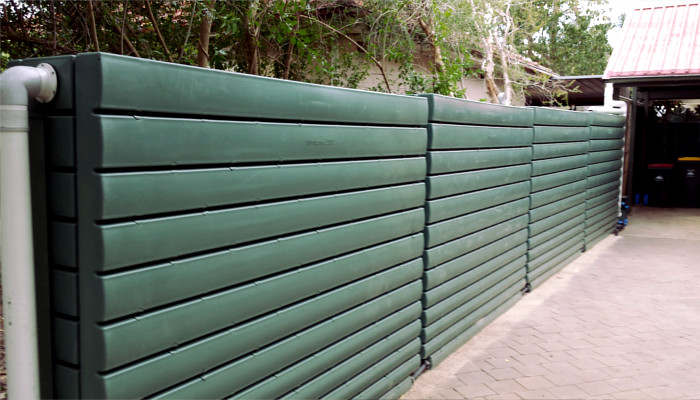 Poly tanks Adelaide
Available in a wide range of slim line and round configurations, poly rainwater tanks Adelaide an economical method of capturing valuable rain water. Our poly tanks are manufactured to strict Australian Standards from virgin food grade polyethylene and are backed by a full 10 year manufacturer warranty.
We'll help you to select the best poly rainwater tank for your space and rain harvesting requirements. Whether it's a large 22,000 litre round tank to keep your garden going right down to a compact slim line tank to water a few plants.
We'll even take care of the installation for you. From base preparation, storm water and gutter connection right through to plumbing and electrical. You can have peace of mind and be assured of a professional on time installation covered by licensed trades people.
Like to do it yourself?
For the DIY enthusiast who knows what they want we can simply supply you with a poly tanks Adelaide or surrounds delivered to your front yard. If you're planning a complete system we would be happy to help with the design and selection of material, pump, filter and accessories. We can supply a complete kit with everything required required for the job, saving you valuable time and running around chasing fittings and parts.
Round poly tanks
Round poly tanks are by far the most economical way to create your rain harvesting system. They offer the largest storage capacity at the lowest cost.
Our round rainwater tanks are available in a wide range of diameters, heights and capacities to suit any back yard. There' even a wide range of colours to compliment your home.
Slim line poly tanks
If backyard space is a problem a slim line poly tank may be the perfect rainwater tank solution. They are ideal for taking up that dead space sown the side of our house or squeezing into that gap behind the shed.
Slim line poly tanks are available in wide range of sizes. Starting at 1000 litre capacity right through to 3000 liters and with widths starting at a very narrow 260mm we have the perfect tank for your space. And to increase your storage capacity two or more tanks can be linked together so they fill and drain at the same rate.
To save valuable mains water in your home your new tank can be plumbed to flush toilets, to your washing machine or even to supply the whole home.
Get a quote
Call us today to arrange a free in home design and quote for supply and installation of your poly tanks Adelaide, Adelaide Hills, Barossa and surounds.