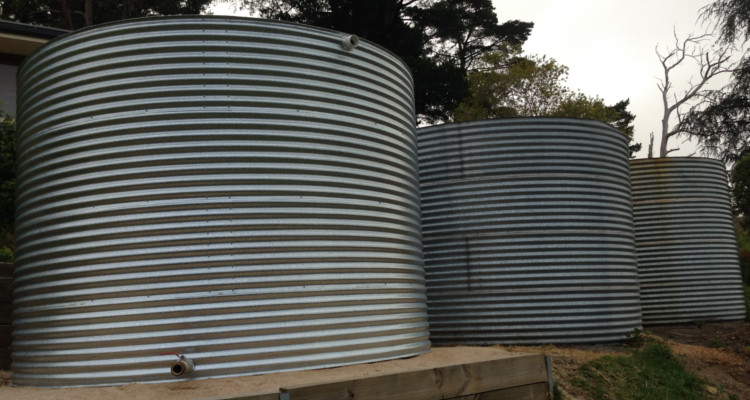 Round steel rainwater tanks
Traditional round steel rainwater tanks have been used in Australian back yards for over a hundred years and are the most economical way to store water for your home and garden.
We manufacture a huge range of sizes from small 900mm diameter tanks through to large 3500mm diameter 30,000 litre tanks. Almost any size is achievable from short squat tanks through to skinny tall round water tanks.
If access is difficult we can build your rainwater tank on site saving expensive crane costs or the hassle of removing fencing for installation.
We can supply fully installed and plumbed or simply delivered to site for self installation. Call us today to discuss your requirements.
Choose from traditional Galvanised or Long life Aquaplate®
Available in a range of Colorbond colours Aquaplate® has been designed specifically for rainwater tanks and is the best choice for the longest life. Its internal surface is bonded with a food grade polymer lining. This lining protects the steel from corrosion and provides an extremely long life. Aquaplate round steel rainwater tanks are covered by a 20 year Bluescope Warranty against rust and corrosion.
We still have strong demand for galvanized round steel water tanks. Galv rainwater tanks have been around for over a hundred years and have proven their long life and durability. Just think of that old galv tank in your parents back yard, how long was it there before it started to rust, 20 years, probably more?
Get a quote today
Call us today to arrange a free no obligation in home quote on a round steel rainwater tank or a complete rain harvesting solution. We're a family owned business and pride ourselves in our quality and attention to detail. We cover all of the Adelaide suburbs as well as the Adelaide Hills and Barossa Valley.